Hey ya'll! I've been so lazy about blogging. Bad me. I should set an alarm for myself during the day to remind me that I need to take a break from my crazy life and relax for an hour to write a blog post. After all, I really do love blogging about food. I've been in school for two weeks now and it has completely taken over my life. I'm currently in Biochemistry, Food Systems and Management, Nutritional Assessment, and Technical Writing. It is a handful, but I'm surviving so far. Anyways, it is Friday and you know what that means. Nutrition Fact Friday. Today's subject is pretty special to my heart. I wonder if ya'll can guess? Probably because I'm pretty predictable, but it is….
OATMEAL.
All you talk about is oatmeal? Well yes when I'm sober I can be pretty boring. Oatmeal is a great food because not only is it a source of whole grains, but it has many functional benefits too. I know this because I had to sit through this girl's boring presentation on oatmeal for my functional foods class last semester. YOU HAD OATMEAL. Come on. Snazz it up. Bust out some jazz hands or at least some sprinkles for godsake. However, I did end up learning a lot about oatmeal, mainly because I was going to be tested on it for my final, but oh well.
 One of the first things you learn as a nutrition major OVER and OVER again (yeah, they like to teach you the same thing a lot, so it sticks in your mind for the RD exam) is that fiber is important. Insoluble and soluble fiber are both needed in a healthy diet. Well, that is why oatmeal is such a great tool to have in your kitchen cupboard. Not only does it taste good, but it also contains both kinds of fiber. Why is fiber important you say? Insoluble fiber aids in bowel function, and more specifically helps speed up your stools. While the soluble fiber ends up forming a viscous gel within your stomach that allows a feeling of fullness to last for a long time, which can eventually aid in weight loss.
Most people do not know that soluble fiber contains a special bioactive compound that has a variety of positive affects on the body when consumed. The compound is called beta-glucans. In general, the beta-glucans of soluble fiber helps lower cholesterol, which is such an important thing for most people. When you go in deeper, you see that it traps the bad cholesterol, LDL, but there has been no connection to raising HDL levels, which is the good cholesterol. Instead, it just does not affect it, so that it can provide its benefits. Another positive affect of a beta-glucan is in regards to diabetes. Its beneficial effect is shown by slowing down the absorption of glucose following consumption of food.
Oats are seriously going to takeover the world. I know a lot of people that probably are like how are these healthy bloggers obsessed with oats, but really they are good for you and if you spruce them up enough then they are pretty mind-blowing. Wow, I get off track a lot. The ADD that I pretend to have, but really I just like to joke about it. So, where was I? Umm OATS. Yes, one last highlight of oats is that they contain a large amount of phytochemicals. If there is one thing that I took out of functional foods it is that phytochemicals are a killer thing to include in your diet. Why? Well, for the instance of oatmeal, the phytochemicals have an anti-cancer effect on the body. Heck, I'll eat any food item that has yielded large positive results in research on cancer.
In general, oats are good for your overall health and longevity of life. So go out and buy the largest tub of oats you can find. Well don't really do that unless you actually like the taste. I have a huge tub of oats in my pantry though. Oats can be confusing with the variety of types, but I tend to stick with the old fashioned rolled oats, but if you are in a hurry buy some quick oats OR if you want to be a super health nut get some steel cut oats, but they contain a larger amount of calories than the other two options.
Since this post was about oatmeal, I obviously wouldn't leave ya'll without a great recipe for oats.

Gingerbread Oatmeal
1/2 c. of oats (I used Quaker Old Fashioned)
1 1/3 c. of water
1 banana
1 tbsp molasses
cinnamon
a dash of nutmeg
1 packet of truvia
1 tsp of vanilla extract
a pinch of chocolate chips
1 gingerbread man
2 tbsp chocolate PB2
1. Place oats and water in a microwavable safe container, and heat for about 2:55. Let sit in microwave for about 2 minutes
2. Slice up banana, place on top of oatmeal, and microwave for about 2 minutes or until banana is mushy.
3. Stir up so that banana "melts" into the oatmeal.
4. Add all other ingredients except PB2, chocolate chips, and gingerbread man.
5. Stir all added ingredients until mixed thoroughly.
6. Top with chocolate chips, then PB2, and put your little gingerbread man in for a nice swim or crumble him up. Either way it will be delicious.
I hope you enjoyed a little health lesson about oatmeal. My blog may be going in a more serious place. BUM BUM BUM. Yeah right. I won't be getting serious because lets be honest I'm a total goof, but I want to focus on more health related stuff like the food service industry, government regulations, nutrition in the news, and life as a nutrition student. OBVIOUSLY there will still be tons of food because I'm a pig. Really though. I wish I had one of those cute little tails, but I like to eat HEALTHY nutritious foods unlike the majority of the US population. Sad, but true.
I'm out for the night. It is Friday afterall. You know what that means. SHOTS SHOTS SHOTS….of biochemistry homework because I'm going out raging tomorrow night. I'm going to leave you with some of my favorite oatmeal recipes that I have seen out in the blog world.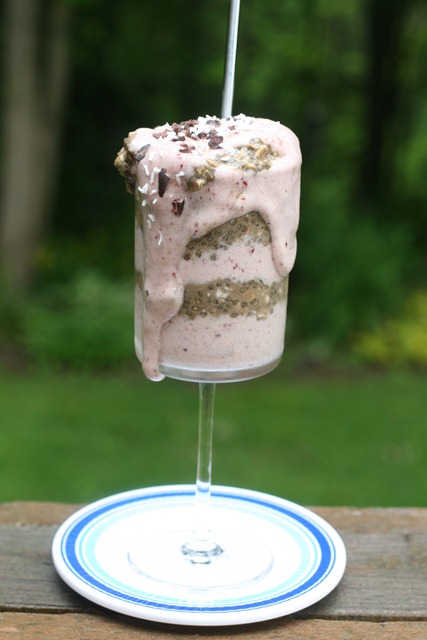 Ya'll should really check out Angela's post about this delicious oatmeal recipe called Cherry Chocolate Bomb Vegan Overnight Oats. Drool worthy. Oh how I wish I had a nice camera to turn out such delicious photos like this one. She had me at chocolate and cherries. I'm obsessed with cherries, so throwing this classic combo in an oatmeal form. Oh god. Yes please.
One of my favorite blogs to check out for oatmeal recipes is Heather's amazing blog, Kiss My Broccoli. She has crazy, creative recipes that include favorites such as Sante Fe Oats that have an egg, salsa, and avocado topping them. Ummm delicious. Can I hire you to make this for me please? Fine I'll stop being lazy and do it myself, but if you want some delicious ideas check out this blog because the girl sure knows her stuff about cooking!
Do you get enough fiber in your diet?
How much do you know about phytochemicals, beta-glucans, and fiber?